Danielle Hendrix |Orange Observer
Boyd Development Corp. recently announced plans for a 16,000-square-foot concept called the Hamlin Market.
HORIZON WEST If you love the Plant Street Market, Hamlin's newest development is sure to be a welcome addition to the Horizon West community.
Boyd Development Corp. recently revealed plans for a 16,000-square-foot food-hall concept, which currently is called Hamlin Market. It will serve residents of the 900-acre master-planned community, as well as those living nearby.
"We are excited to share a conceptual rendering and inspirational images for a 16,000-(square-foot) market offering a collection of dining and retail options designed to create memorable experiences for guests," the development company wrote on its Facebook page for Hamlin. "The development will also include a rooftop bar on the second floor and have significant outdoor seating along Lake Hancock."
Boyd Development Corp. added that it is in the final design stage for the building. Residents can anticipate construction to start early in the second quarter of 2019.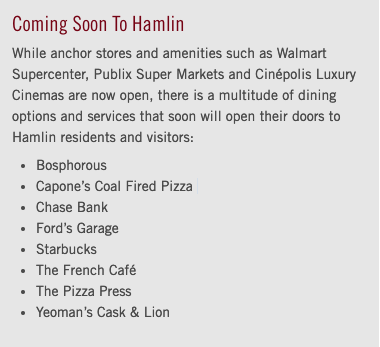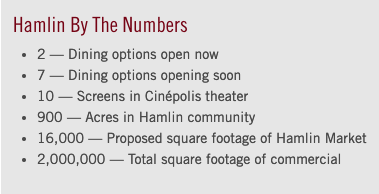 The market will be located adjacent to Cinépolis in the Lake District and could include rotations of food offerings. The development company did not reveal an operator for the food hall.
The nearest food-hall concept currently is the 12,000-square-foot Plant Street Market in Winter Garden, which offers a total of 20,000 square feet of both indoor and outdoor space. This includes an 8,000-square-foot patio, 2,500-square-foot private event space and a capacity of 300 seats. Tenants include Crooked Can Brewing Company and a variety of beverage, dining and gift vendors.
For more information about the Hamlin community, partnership opportunities and to stay updated on announcements, visit hamlinfl.com.